Skip Navigation
Website Accessibility

13th Anniversary Sale!
Greetings Quilters,

Welcome to Fall. As usual, there is sooo much going on during this time of the year. Although Covid has put a crimp in many of the public gatherings, there are plenty of things to be thankful for:

My wonderful wife is still with us (many thanks for all the prayers and thoughts during Janet's ICU stay), Halloween, Football, Sports, Friends, Food, and oh yeah, let us not forget - F A B R I C!

In celebration of your patronage and support of Thread Bear Fabrics we announce a traditional old fashioned simple S A L E -

OUR 13th ANNIVERSARY SALE

This one is super easy - no catch phrases, no dressing up, no targeted items, no special hours - JUST 13% OFF THE BOTTOM LINE!!

That means if it is already on sale then it is still 13% off that price! SWEEEET!!

Starts NOW.

Ends November 1 (All Saints Day).


Online Customers use the code - Lace
*******************************************

Bear Essentials

***New arrivals - Way too many to list. Just off the top of my head, NFL, MLB, College, Disney, backing, muslins, paint chips, panels, Mickey and sports, Super Heroes and sports, plus many, many more.

Janet is placing them under the "New Arrivals" section. Just visit threadbearfabrics.com scroll down to the New Arrivals section, just click on what you want to see and boom - you are there.


*** Markdowns - Besides the $4.99 /yd tables (and yes we constantly add to these) and the $2.25/ each Fat Quarters in the boxes (we constantly add to the boxes as room allows), there is a new feature Janet has added.
If you scroll beyond the New Arrivals Section to the Featured Categories Section you will find new markdowns. The one which I am gleeful over is Mirah batiks - now $6.99 / yard!! Please buy them - less sneezing for me and more room. Other collections are reduced to $7.99 and $8.99 per yard. We are adding more markdowns weekly.


***Events - Not much to say here. Most have been canceled due to covid.

*Netherworld - It's back! If you like Halloween and being scared - then this is the best haunted house I have been to ever. Kind of pricey, but quality. Please visit https://fearworld.com/ for more information.

*Halloween - Yes, it is Halloween season. Yes, we have plenty of Halloween fabrics, but be warned they are on Randy's Side. That means you will have to put up with things that go BOO!


*Halloween Candy Dish – Located behind the window display in the classroom side. Stop by and score some awesome chocolate, exchange glances with the guy, and receive sage advice straight from the skeleton. Just think, maybe someday they will make a GPS with a voice like that – trust me "he ain't Elvis".

*Halloween Eye - Located on Randy's cutting table. Push the button if you dare!!


*******************************************
Finally, think weird things do not happen on Halloween? This one is true.


Two firefighters, Scott and Steve, were on the way back to town from fighting a brush fire from a sparkler (a train with metal or rock stuck in brakes producing sparks igniting fires along the traveled path) on Halloween.

The radio crackled, "Unit eight."

Grabbing the tear shaped microphone Scott spoke, "Unit eight, over."

Alice, the nose, (she sounded sooo nasal over the radio, but was in real life did not sound that way) with obvious inflection began, "The Sheriff and all the deputies are all out answering other calls - everything from aliens to sheep in lipstick. He wants to know if you will check out 1411 Maple Street. It is on your way in. A neighbor called us. Said she smelled smoke. And since the burning ban is in effect due to the drought , and since you are firefighters....."

Scott responded with a tinged voice "Sure, Alice, when you ask like that way how could we ever say no." Besides its Halloween.

Steve gesturing toward Scott took the mic and virtually shouted, "We already saved the county from burning up tonight! Will be glad to bail out you "blue bloods" yet again. But hey, if one of those aliens y'all are chasing happens to look out of this world - how about getting some contact information for me."


The dry reply, " Sugar, your last girlfriend - pigs blood and vanilla ice cream - Really?! You sure she was from this planet?

Scott grabbed the mic back. "Ok, Alice we will check it out. Unit eight 10-11 out."

As the engine rolled up on the single story ranch on Maple Street, Scott with a slight edge of excitement barked, "Get your gear! I smell smoke!"

Bolting off the truck, both men methodically, pulled on the heavy fire protective coverings, but carrying their helmets in hand (the face shields made talking almost impossible).


Pounding on the door, and shouting, "Is anyone home? Cliffside fire department. Open the door." finally brought a porch light on plus a discernible click of the deadbolt.

As the door slowly opened, a small elderly lady with smut stained cheeks, dried leaves in her hair with rake. She spoke, "Wait a Minute".

She placed the rake against the foyer wall and grabbed a bucket and promptly dropped two mini 3 Musketeers into each man's helmet.



With a frail voice, she spoke, "You boys look kind of old for this kind of thing, but the fire truck is a nice touch" and closed the door.
******************************************

Finally, Janet, just the other day, informed me, after taking a picture of a product for her to email to an online customer, that my pictures were "drab and unimaginative". What a shock – I was thinking of updating my resume to include "photojournalist" – hey -I take pictures of fabric and write about them!
Instead of seeking counseling for this tremendous blow to my ego, I decided to ponder magic. Now, I am not a wizard, but I am a merchant, and after all, it is Halloween.



So tell us what you think.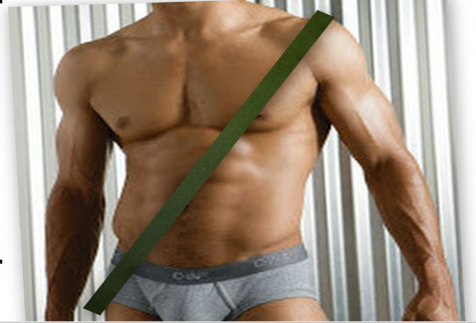 No we are not selling men's underwear, Viagra, or buff energy drinks – just wish fulfillment!! Our high quality olive green exquisite Renaissance Ribbon is manufactured under the most exacting conditions and is sure to add an air of elegance and sophistication unequaled by anyone in the trim industry – to use the European term - a certain je ne sais quoi quality. Great for embellishment. Sure to make virtually anything look better.


Just look at the photo. Hard to imagine a 73 year old 283 lbs male. By simply adding one piece of Renaissance Ribbon the transformation is nothing short of miraculous! And the green color, often associated with wealth, could secure your financial future! Change things for the better – embrace your dreams – get rich -buy Renaissance Ribbons.
Disclaimer: Theses statements have not been evaluated by the FDA (mainly because it's a ribbon and not intended for ingestion or consumption). Results may vary with individual use. Results pictured are not typical.
Until next time, we wish all of you the best and remember not to get that ribbon too close to your snoring husband's mouth!

Happy Halloween,

Janet + Randy