Memorial Day Sale
Dear Friends,
Welcome to Summer! Normally, I would say that it would just bring the heat, but with rain in this weekend's forcast I think the weather will be a bit contrary. We're not sure about a cookout, but we will enjoy the time off and remember those who served and sacrified all for our freedom.
We are still moving things about the shop as we move forward with the expansion and trying to make room for all of the new collections that are arriving.
There are so many new fabrics to choose from and so little space to display them.
We have new Halloween and Fall collections with Owl O Ween, Spellbound, Rustic Gatherings and Patrick Lose's batik collection Midnight Magic.
We also have a new Patriotic batik collection called Vintage Spirit.
Christmas collections are starting to arrive.
Comfort and Joy is by Project Joy and has her beautiful watercolor trademark look.
Jolly Good is Basic Grey's collection featuring a beautiful floral, stuffed stocking and beautiful geometic designs. Good News Great Joy will give you designs that will help you rejoice in the season.
Christmas Eve is Lella Boutique's follow-up collection to her very popular Christmas Morning collection.
Need a quilt for your favorite child? Then Reindeer Games by Me and My Sister Designs might just be the ticket.
Merry Manor Metallic is a traditional Christmas collection with that metallic sparkle.
The new Holiday Flouish line from Robert Kaufman should arrive next month.
Tula Pink's Everglow and Neon True Colors collections are hot in more than just their colors.
If you like the more traditional, Florence's Fancy, Sugarberry, Laundry Basket's Cocoa Pink and the new Morris collection Leicester will appeal to you.
Finally, our first Tilda collection has arrived. Bloomsville is a beautiful collection with geishas and flowers that are abundant. I have listed the collection in the website, but I am not supposed to put the collection out until June 1st. On that date the "add to cart" key will be activated and the collection will be on the floor and available to purchase.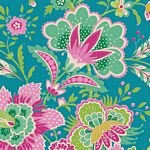 To view these collections and many more, please follow the link to our home page and they will be listed under "New Arrivals". (Note: I have added a link below a couple of the listing that are not under "New Arrivals" due to an issue I have reported to my website provider.)
Sale
Now to our Memorial Day Sale. This sale will start on Sunday, May 28th and go until Wednesday May 31st. We are not open on Memorial Day, but you can shop online and use coupon code "Honor" All of our Americana and Patriotic fabric will be 25% off. Use to following link to view the sale fabrics.
Americana and Patriotic Fabrics
Quiltcon Challenge
The inspiring Jacquie Gering, the Featured Lecturer for QuiltCon 2024, has chosen our Windham Challenge palette this year! We are so happy we get to gaze at these beautiful Artisan Cotton cross-weaves for QuiltCon 2024. What will you make?
Quilters may use from 3 to 6 colors in the palette to create their quilt. No other fabric, neutrals, etc. may be used on the quilt top or binding. Makers may use any fabric of their choice for the quilt backing. Maximum quilt size is 110" per side.
Quilts are entered into QuiltCon using the standard submission process, selecting the Windham Artisan Cotton 2024 Challenge category. Submissions open September 1, 2023 and close October 31, 2023.
Note: I have these fabrics on order and they should be arriving shortly.
***************************************************From Randy's Side****************************************************
Well, as you can "see" Janet has not stopped ordering fabric. Come and check out our new renderings. Memorial Day can be a solem occasion, but it also signals the unoffical start of summer, travel season, grilling season, pool openings, and of course in Georgia especially - MATTRESSES! Yes, this Memorial Day the rest of the world wants you to buy a mattress - we on the other hand want you to achieve wish fulfilment through fabric. Ever notice those pesky little tags on a mattress - you know the one - DO NOT REMOVE TAG UNDER PERANALITY OF LAW - yeah, that one. Does that mean there are mattress police?
Now, Janet, by beloved wife, is a tag person. She absolutely hates them - always immediately trearing them off - clothes, blenders, dryers - does not matter. I, on on the other hand, like tags - informaton, history, accountability, written record, etc. Janet, is for ever pulling tagsf of my clothing, saying "you look like Minnie Pearl."
To which I usually respond, "If you tear off the tag, how will people know it's new?" That usually, gets me a "you ain't right look". Now, I have not personally checked our mattress for tags. I really don't want to know. I could be living with a hardened criminal!
**********************************************************************************************************************************
After a distinguished military career Sam Short continued to serve his country as a US Senator for many years. At his passing, his wife Ruby, executor of Sam's will, was surprised and shocked to find specific instructions for Sam's funeral. Apparently Sam, unbeknownst to Ruby, had been placing funds into a secret account for his funeral ever since he was a Lance Corporal in the Marines. As it had gained interest and compounded over the 60 plus years, it was a tighty sum which was to be spent entirely on Sam's funeral.

As the last attenders left, Sam's wife, Ruby, turned to her oldest friend, Sadie, and said: "Well, I'm sure Sam would be pleased."

"I'm sure you're right" replied Sadie, who leaned in close and lowered her voice to a whisper: " Now tell me true, how much did it really cost?"

Ruby's response was calm and short, "$150,000".

Her eyes filled with curiosity, Sadie inquired, "Yeah, but how much of that did you really spend?"


"All of it" said Rose. "150,000."

"No!" Sadie exclaimed "I mean, it was very nice, but really.......$150,000?"

Rose nodded. "The funeral was $6,500. I donated $500 to the church for the priest's services. The food and drinks for another $500. And the rest went towards the memorial stone."

Sadie computed quickly: "$142,500 for a memorial stone? Must be some stone!
Exactly how big is it?"

"Seven and a half carats." was the calm reply.

*********************************************************

A small boy was staring at the names on the wall of an old church when the pastor noticed him.
"What are you looking at?" asked the clergyman.
"All those names. Who are they?" the boy asked.
The pastor solemnly nodded, and replied,
"They are the reason we have Memorial Day. They are those who died in the service."
The little boy's face turned very pale. Meekly he asked, "The 9 o'clock service or the 11 o'clock?"
*********************************************************

Until next time,

Keep Quilting and we hope all of you enjoy the long weekend.

Janet, Randy,Tina, Joseph, Jonna, Jennifer